Hands-on Cyber Safety™

.
This workshop contains a very strong focus on hands-on activities.  During the 4 hours, you will spend 30-50% of your time performing practical tasks.
As a result of the practical component, you will be able to reinforce the concepts you've learned, retain them for longer and apply them immediately in day-to-day activities.
This workshop is tailored to specific industries - medical and dental, legal, civil engineering and architecture, accounting, service, manufacturing.  For a course in your specific industry, please see our courses schedule.
9 Reasons to Attend
1. Learn what are your industry requirements for records management in Australia
2. Identify the potential threats existing for businesses that create, use and manage customer records
3. Learn about the hidden dangers of poorly selected passwords (By the way: Br$nf#57at2is not a good password) and how to create a good one
4. Learn what are the weak points in cyber-safety, e.g. human factor, social engineering, personal devices, etc. and how to mitigate them
5. Learn about the dangers within Small Office/Home Office networks and how to diminish the major ones without being a technical guru
6. Learn how privacy is breached
7. Learn about encryption, why you need it and how to enable it on your side
8. 100% money-back guarantee - if, for whatever reason, you're not satisfied with the course, send us an email within 3 days and we'll promptly refund your registration fee. 
9. Receive a free security key (Yubikey Neo) if you're one of the first 3 people to register - USD50 value
5 Things You Will Take Away
1. Enabled 2-factor logins on your major sites and a methodology how to do this in the future
2. Selected strong passwords on sites that don't support 2-factor logins, a guide to password selection and instructions on how to confirm if your passwords are strong
3. A step-by-step methodology for non-technical professionals on how to check the security of your Small Office or Home Office (SOHO) network and put changes in place, if needed
4. A set of guidelines on how to make your communication online more secure 
5. A step-by-step methodology to protect your privacy online or to completely hide yourself, using technology deployed by U.S. Navy for intelligence gathering
Who Should Attend  
1. Owners of small to medium businesses
2. Business managers
3. Service providers to businesses
4. Students preparing for a career in the respective industry
5. Anyone interested in learning more about cyber safety
Pre-requisites
 None 
Duration
4 hours
Your instructor

.
---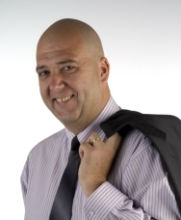 Mario Bojilov is a Certified Information Systems Auditor (CISA) and holds a Master of Engineering Science (by Research) Degree from University of Queensland and a Graduate Diploma in Applied Finance and Investment from FINSIA.
Mario has worked in Information Systems Audit and Risk since 1994 and has delivered monitoring solutions and performed risk assessment reviews for a variety of diverse organisations, such as Brisbane City Council, Tatts Group, Queensland Urban Utilities, Griffith University, Parmalat Group, QUT.
Mario has appeared as a presenter and lecturer at various professional and academic bodies, such as Institute of Internal Auditors (IIA), Information Systems Audit and Control Association (ISACA), University of Queensland, Queensland University of Technology and University of Southern Queensland.
In addition to his professional activities, Mario is currently pursuing a Doctor's degree focused on combating cyber-crime within the financial services sector.
We would love to hear from you.